Atola Insight USB
It was the first data recovery tool to covered all phases of the data recovery process: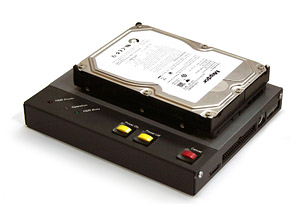 HDD diagnostics for source SATA or IDE HDD
Firmware recovery of supported hdd
HDD duplication/backup image creation
File recovery
The diagnostis reports the exact problem, whether it is a PCB or head failure, media damage, motor freezing, firmware or file system damage.
Atola Insight USB can automatically diagnose all hard disks components, reports the exact problems and
how to fix them; it can also automatically repair the firmware and show/remove ATA-passwords of any security
level of supported_hdd.
Automatic diagnostic of all hard drive components
Automatic firmware recovery and ATA password removal of supported hdd
Firmware area backup system of supported hdd
Real time current monitor for the 5V + 12V currents separately for hard drive diagnostics
Power control to protected attached HDD against overload or a short circuit

Case management system
The final software supports Windows 7, 8, 8.1 and 10 - 32/64bit
Atola Insight USB works right out of the box with a clean user interface designed for easy operation.

The unit is on stock in Vienna, Austria, for immediate shipment !
Hard drive to host duplication via USB (38 MB/sec max transfer speed)
HDD duplication with included Software for a Windows host PC or laptop via USB 2.0
Small and mobile size - perfect with a Windows laptop. Our Bad Sector Recovery.
Serial port for firmware area access of some hard drives

Buzzer and LED indicators for end, error or status of operation, power or RS-232 port.

Write protection switch Turned on it disables a write operation to the source drive